Do you think that choosing an ironing board wisely is necessary? Does a good ironing board make difference in your ironing? The ironing experience becomes easier when all the necessary equipment needed for the ironing task chooses, are the right one according to your requirements.
Moreover, along with a great steam iron or steam generator iron, an ironing board, and an ironing board cover, a good wrinkle release spray also plays a very crucial role in getting professional results.
Ironing board helps to make this chore much more tranquil if you do the right choice. There are many different types of an ironing boards. Selecting the one which suits you more is also important. Further, check the necessary factor according to each type of board like its height, weight, size, Mobility (whether you need a built-in ironing board or a portable one), sturdiness, adjustability, and the board padding.
Most importantly, do work on does it suits your pocket to pay off and it durability you get in return. According to our opinion, we suggest you choose the best one, as it works for years and make your ironing task more unperturbed. Especially, when you have a large pile of clothes to do.
Factors Necessary to Check before Buying an Ironing Board
A brief detail you can check how to choose an ironing board before buying, to make a remarkable experience.
Height:
It's better to choose the ironing board with adjustable height. As most people like to do ironing in a standing position. While doing the ironing in a standing position it's necessary to adjust the height according to the person's height to abstain from any back pain.
Furthermore, now we have ironing boards that can be adjusted for standing and seated ironing. You can choose that also. If anyone wants to do ironing by sitting can easily entertain also.
The height of the standing iron varies from 90 cm to 102 cm (36-40 inches). Moreover, the seated ironing board setting starts at 61 cm (24 inches).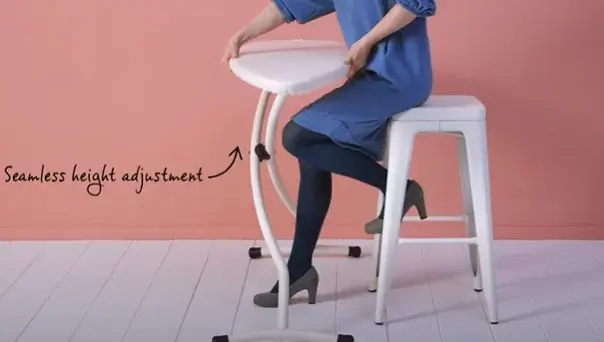 Size:
Choosing a narrow or wide ironing board, which one works better to use? In our opinion, a wide ironing board is more convenient to use. A full-size ironing board is 4 feet long and 18 inches wide.
If you have less storage place at home, a logically narrow ironing board suits you more. The drawback of a narrow board is that more movement of dress and sheets is needed while ironing. If you have a proper ironing room at home or to keep the board then the selection of a broader ironing board is much appreciated.
Quality and Sturdiness: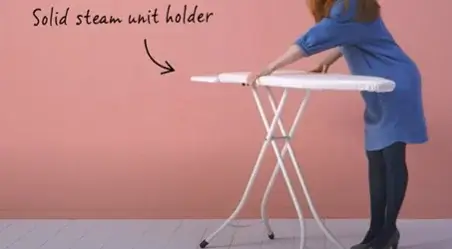 A great quality ironing board is lightweight, has sturdy legs, and with a solid base. It has no chance of collapsing and is long-lasting.
Moreover, we prefer four leg ironing board as it is more stable as compared to a T-leg ironing board. The steel used for the ironing board is of great quality and the base should be stiff and with thick padding. Can easy to close and store.
Portability:
It's most important you can select the ironing board according to your need for work and space. As we have many different types of ironing boards available in the market like built-in ironing boards, wall-mounted ironing boards, tabletop ironing boards, over-the-door ironing boards, and larger boards with stand units.
If you have proper space for attaching or cabinet then fixed ironing boards are a good choice. Over-the-door ironing boards also save space. Whereas, the table-top ironing board is portable and easy to carry and save but is small in size so, not go well for larger sheets and for ironing large piles of clothes.
Finally, we suggest if you have space to keep or to iron the best ironing board is a bigger one with stand units. Further, this board works best for larger loads too.
Moreover, check the iron rest area according to your need. Does that is comfortable and has enough space to keep your steam iron? Further, if you use a steam generator iron check whether the ironing board and iron rest area in the board fulfill your need.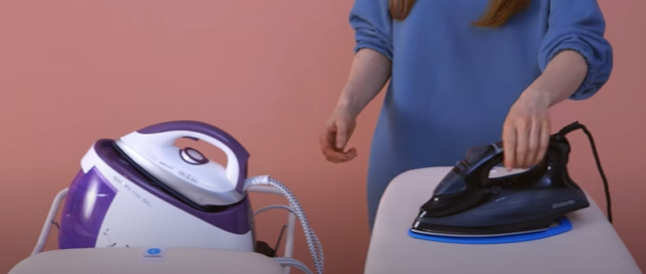 The board Padding:
Choose the board with thick padding and vent holes to penetrate steam. As we can get the separate ironing board cover and padding but it cost more. So, before buying it is one of the important features to keep in check.
Wrap up: (How to choose an ironing board)
It's a treat for you if a board comes with free ironing sleeves board, an iron rest pad, or a rack for hanging clothes. Check all the necessary features we discuss, how to choose an ironing board first, if that is fulfilled then prefer the ironing comes with adds-on features from any of these.