Are you in search of making your house chores easy and want some productive and latest accessories to make life and work easy? If you run away from ironing because you feel it's a hard task. But if you think wisely, you can make it easy by using the best irons, steamers, and accessories like an ironing mat vs. ironing board, organizers ironing pad, and racks.
Our team keenly observe the ironing mat vs. ironing board while working on both for different ironing tasks. Hence they put their word on paper to make the life of our customers easy by making the best decision.
Ironing Mat vs. Board: What's the difference
The main difference between an ironing mat vs. an ironing board is that an ironing mat is portable. Hence, you can set it anywhere in the home you feel comfortable ironing your clothes. Whereas, an ironing board or table requires a proper space to keep. So, a mismatch between your tools and space can make your experience worse. Hence, decides on basis of the space you have, because both the products have their benefits and drawbacks.
1. Ironing Mat
An ironing mat is a piece of heat-resistant cloth that is thick and smooth. You can place it anywhere on a flat surface you feel comfortable ironing like on a table, kitchen countertop, washing machine, or dryer top and floor. Mats are designed in such a way that you can iron your clothes on them anywhere.
Benefits
Portability is one of the great benefits as you can use and fold it to keep it. It requires very less space.
It does not require any proper place where to keep it for ironing. You can use it on a bed, floor, tabletop, or kitchen counter.
 Whenever you do feel needed, you can wash it.
You can take the ironing mat with you while traveling. As it requires very less space in luggage and is lightweight.
Drawbacks
y ironing mats do not come with an ironing rest pad; you have to buy it separately to keep the cloth and surface from any damage.
It does not come with rails and an iron organizer.
Types of Mats:
Manufacturers come up with different ideas and make different types of ironing mats to facilitate. Mostly there are two main types of mats commonly used.
Magnetic ironing mats are designed especially to use on the washing machine or on the dryer top to avoid the hassle of a table for ironing. As these mats come with small magnets attached at the bottom. So, it gets fixed with the metallic exterior of the machine and makes ironing easy for you.
You can check the magnetic ironing mat and its price.
Insulated ironing mats are mostly used for ironing on the kitchen table top, floor, and bed. These mats are usually thicker than magnetic ones. These mats are very useful for ironing large piles of clothes as they can absorb moisture and steam. They have layers of insulation to protect the surface from damage due to heat. You can use them for heavy-duty ironing and different upholstery fabrics and curtains as well.
Our Top Pick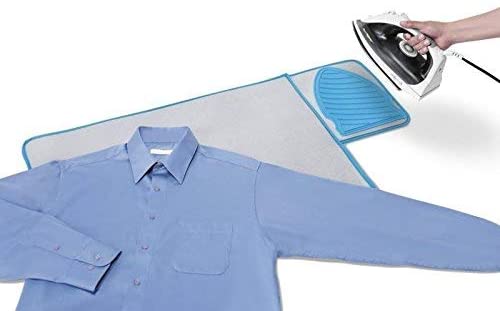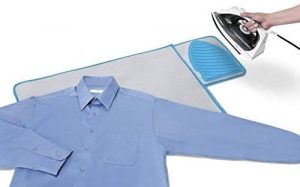 Whitmor Ironing Mat
Specifications:
Material: Polyester, Cotton
Color: gray and gray
Size:21.5 x 28 x 0.2 inches
Backed with non-slip silicone dots
2. Ironing Board
An ironing board is a flat surface of equipment that is made of wood or metal and covered with a thick board cover. It helps iron clothes, curtains, and any type of fabric. If you have good clothes iron but the ironing board you use is not comfortable or of good quality, you end up in difficulty ironing your clothes. So, we recommend you choose the best one for a great experience in ironing.
Benefits
Ironing board provides you a firm surface to iron your cloth easily and can be moved anywhere in the home.
It's movable, foldable, and comes in different sizes and three different choices you have to select the one that suits you more.
Most of the ironing boards come with organizers and storage hooks.
Drawbacks
The ironing board needs a proper space to keep in.
You cannot take it with you while traveling. As the board has weight and requires space.
Some of the ironing boards are heavy, they are good if you have the proper place or room for ironing.
Types of Ironing board:
As the name indicates, a portable ironing board can easily be moved from one place to another. It's made of metal and you can keep or adjust it anywhere, as the legs are foldable. You can adjust the height of this ironing board according to your choice. It's a bit difficult to adjust if you unfold it but you can also move it without folding it easily. This board is mostly use in the USA, UK, and Asian countries.
Our Top Pick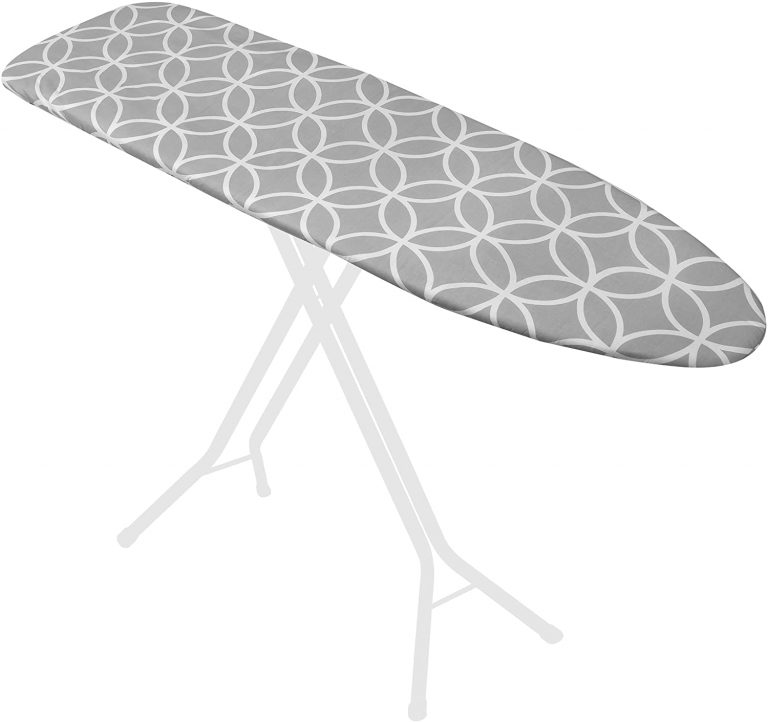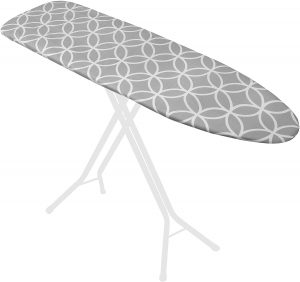 Laundry Solutions by Westex Ironing Board
Specifications:
Material: 91% Polyester and 9% Olefin + steel
Color: Multiple
Size:15×54″
Very Economical
This type of board is best for use in apartments or small homes with less space. As the name shows we attach it to the wall where the space is less or in the cupboard. It's a compact ironing board. You can open it when needed. Most importantly, it's made of very good material so that you can easily use it according to your comfort and convenience.
Our Top Pick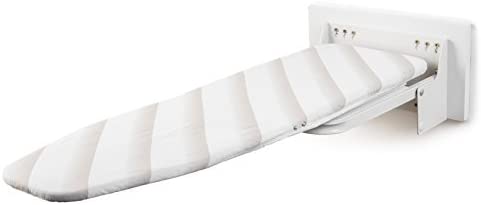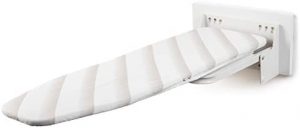 Wall Mounted Ironing Board
Specifications:
Material: Alloy Steel
Color: White
Size:37×12"
Board can be moved and locked in multiple angles
It has small legs, is portable, lightweight, and can easily be movable to any place. you can use it by placing it on a bed, table, or countertop for ironing. Further, mostly you get the iron rest with the board to keep the iron to prevent any damage to clothes or surfaces while ironing. One main drawback of this ironing board is that it's small in size so, it's difficult to iron long clothes on it.
Our Top Pick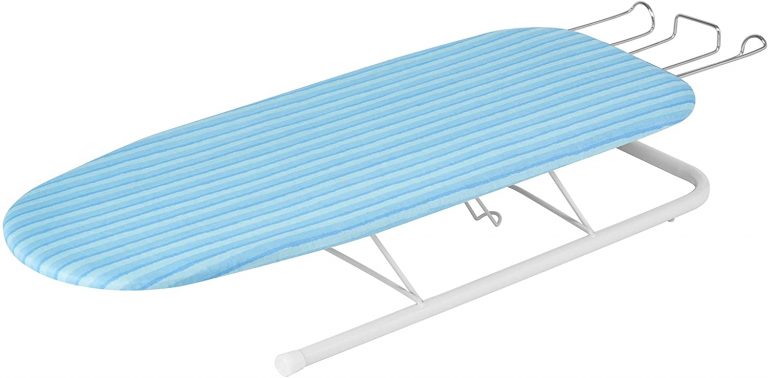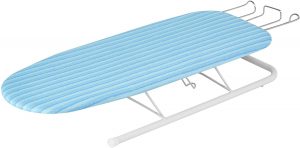 Honey-Can-Do Tabletop Ironing Board
Specifications:
Material: Mdf and metal
Size:32 x 12 x 6.1"

Cotton Cover and foam pad
Final verdict: Which one to choose
To make the ironing task easy you must have all the necessary good ingredients. Such as a good iron, ironing table or mat, organizer, hanging equipment, and resting pad.
According to our team experience, ironing mat vs. ironing board both have their pros and cons as we discussed above but you can decide according to the availability of space.
 Moreover, if you have a proper laundry room or place then you can go with the ironing table or board. As it provides you with good experience for ironing even heavy, light, and long or short any type of clothes. One more main point is that ironing boards are expensive to buy, having good form padding but this is a one-time investment if you buy the good one. If you have less space, might be a problem for you to keep Board.
For more different types of ironing board you can check the blog post:
Best Ironing Boards we reviewed
Whereas, a mat is a piece that can be folded and is highly portable to keep anywhere after use. Moreover, it's very economical. Anyone can afford it.
So, we can say that if you have space and a budget you keep the ironing board at home for ironing in one place. Furthermore, keep the ironing mat too as it's available at a very less rate if you have to travel you can keep it along with you anywhere.