Are you want to get knowledge about the types of iron for clothes available in the market? You are at the right place to dig down about the different clothes iron has been invented to release wrinkles from clothes.
As ironing is a most unlikely task for many people from the start. But as with inventions in ironing equipment and different types of irons, it becomes easy, less time-consuming, and easily removes creases from every type of clothes.
Most importantly, if you select the right and best choice according to your need you can save both time and cost. Instead of going for an ironing service and paying per dress or shirt every time. We suggest you invest in the good and latest iron, steamer, and steamer generators and enjoy ironing at home for years. As it is cost-effective and you can make every type of cloth creases-free whenever you need.
Further, the invention of the ironing appliances and equipment like auto-off, anti-calcium, fast heating technology, steam boost, and different types of soleplates. That makes it easy and helps you to get results like a professional ironing service in less time.
Different Types of Iron for clothes
Some of the major types of clothes iron available and commonly used in 2022 along with their main features and Pros and Cons are discussed in detail here.
Traditional iron (Dry iron)
Conventional Iron (Steam iron)
Steamers ( Handheld and Upright Steamers)
Steamer Generator irons
Cordless irons
Steam Press
Steam cabinet or Steam Ironing Station
Traditional Iron: (Dry Irons)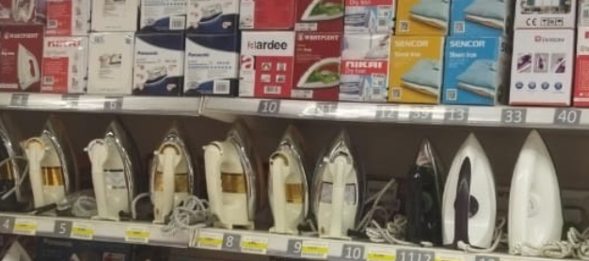 Commonly known as dry iron. It is the oldest iron mostly used all over the world and economical. Further, it is simple to use, the most common feature it has is a soleplate and a temperature dial which is used to increase and decrease temperature. Moreover, it has a red light indicator which gets lightens up when the iron gets hot at the required temperature you set and is ready to use.
As its name indicates, it does not has a water tank built in, we need a spate water spray bottle to dampen the clothes or wrinkle release spray. You have to shut it off after use, as it does not have an auto-shut-off feature.
Conventional iron: (Steam Irons)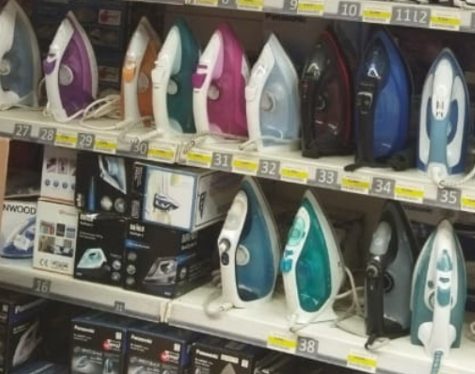 Commonly known as a steam iron. It is one of the iron mostly used in every home in Europe and comes with the latest features day by day. Every brand is working on the feature and bringing different classic steam iron with the latest technology. The most commonly used and best steam iron brands are Rowenta, Morphy Richard, Tafel, Shark, Maytag, and Russell Hobbs.
One of the main features which make it different from dry iron is that it has a built-in water tank. Some other plus, we have in the latest steam irons is an auto-shut-off feature in three ways, which helps to prevent any burn and damage. Anti-calcium functioning helps to prevent lime scale deposits. Steam boost, smooth glide soleplate, different clothes setting, and last but not the least feature mostly new steam irons have is vertical ironing.
These feature in steam iron makes ironing easy.
Ironing Steamers: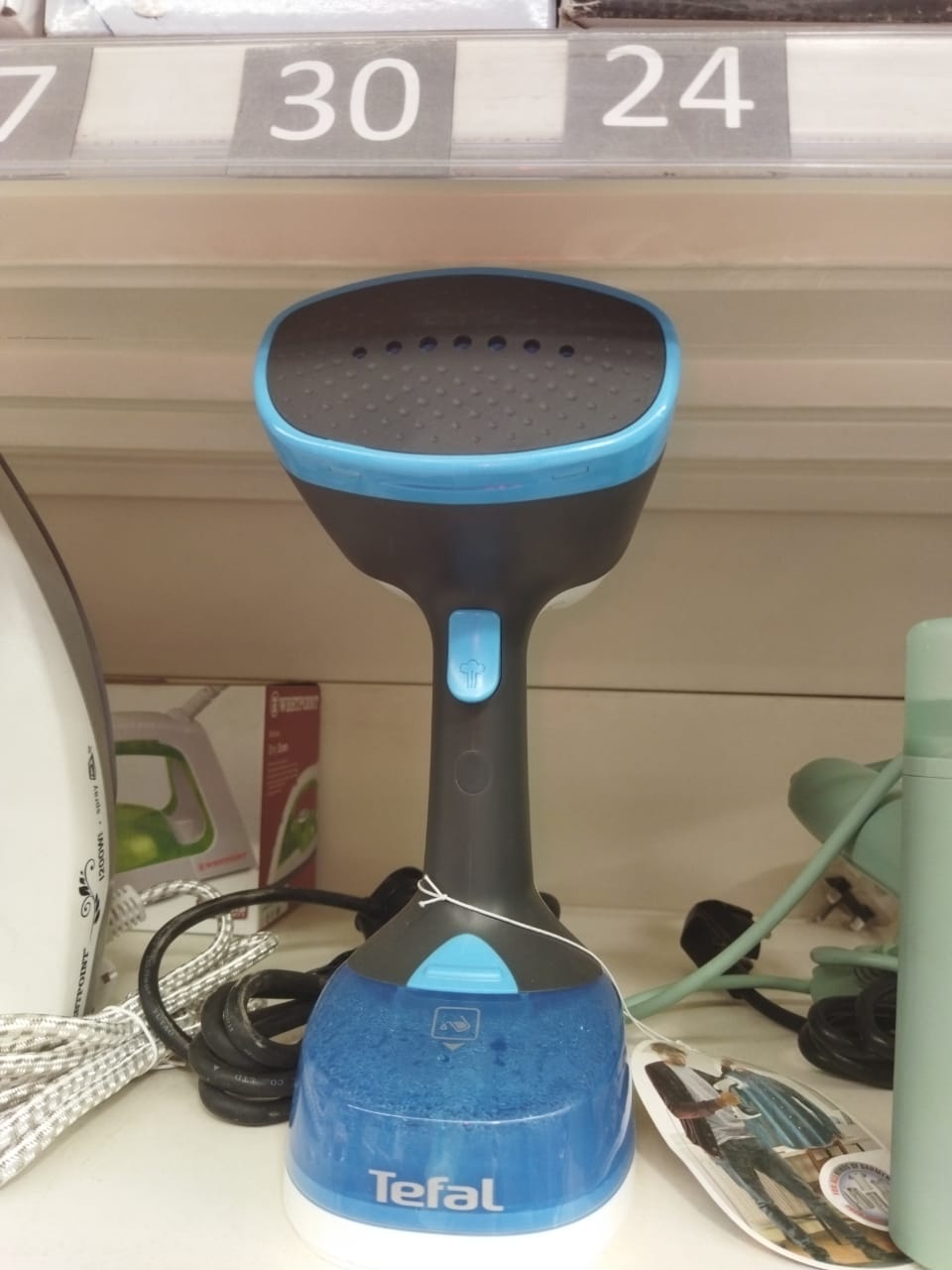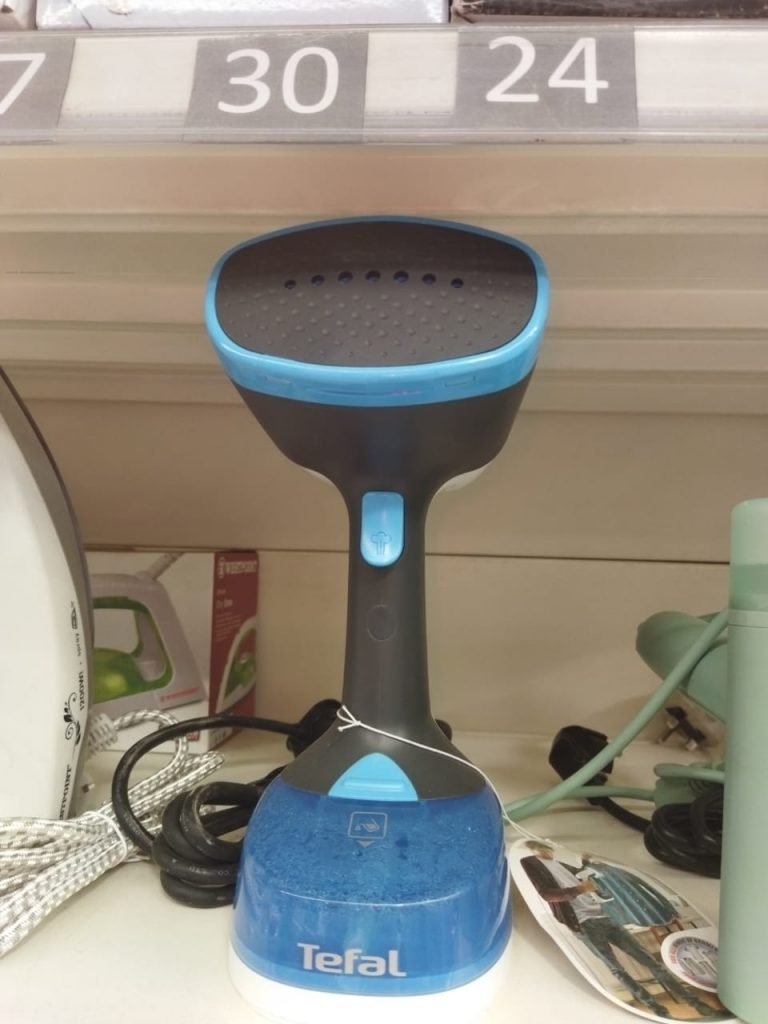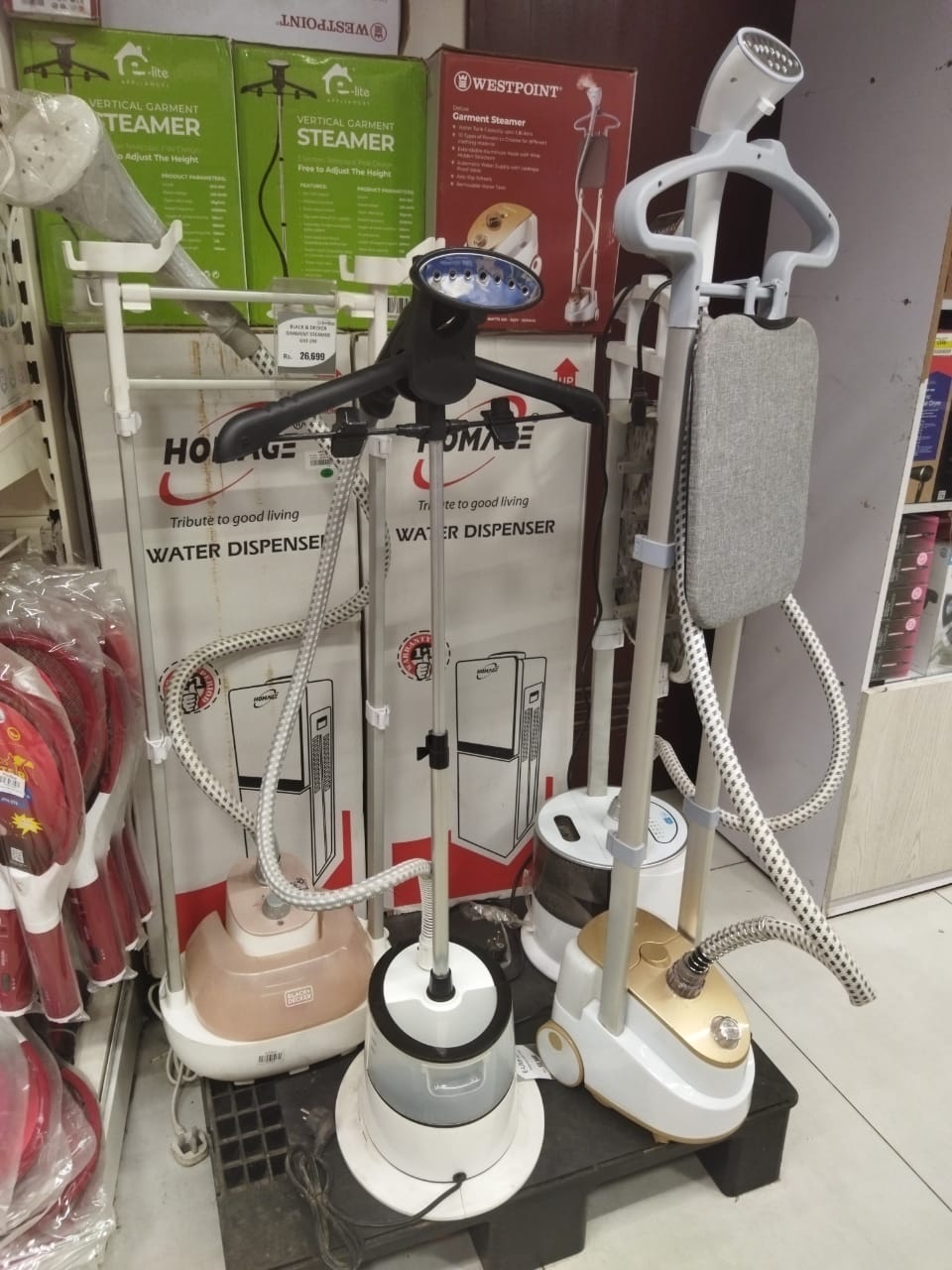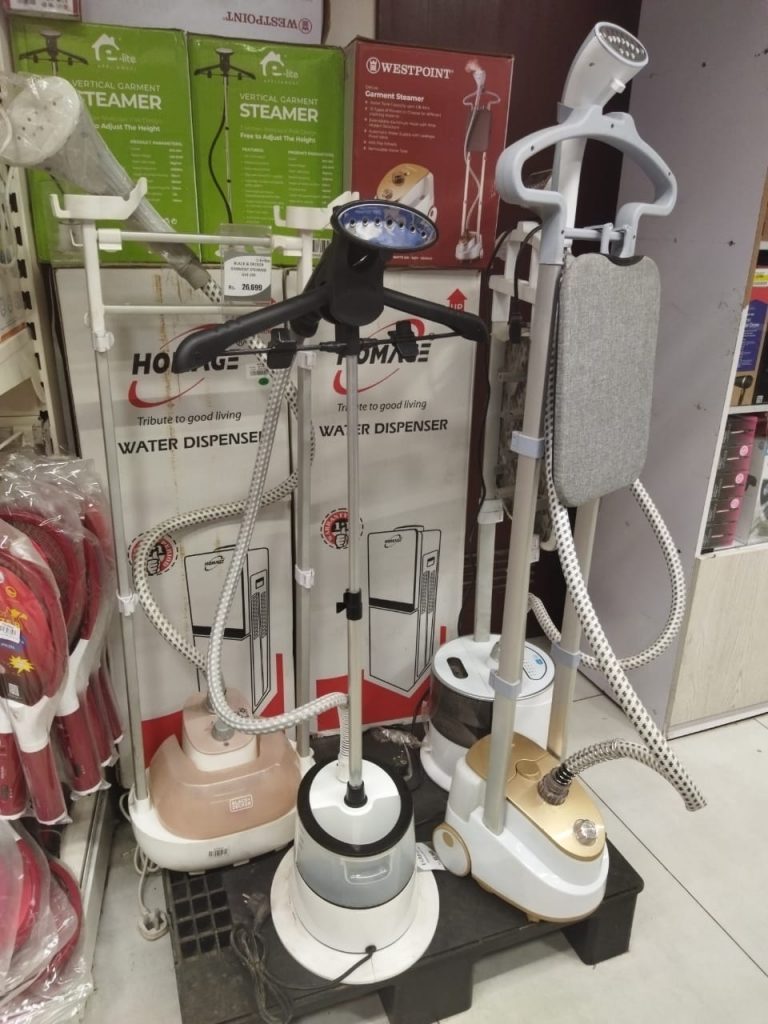 In the market, there are two types of steamers available upright and handheld steamers. Both perform the same function and mostly have the same features and use for vertical ironing. The only difference in size, one is small and the other one is large.
A small one is handheld, easy to carry, and has a small water tank. A handheld steamer is good for the small pile of clothes and for daily clothes ironing and used for neat touch-ups before wearing a dress. A handheld steamer is best to take with you while traveling.
A large one is an upright steamer, which we can use for a large pile of clothes and is mostly used by professional service providers of ironing.
Steam Generator Irons: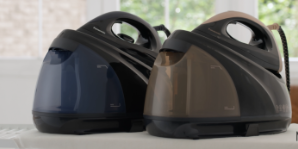 Irons have separate water tanks with a steam iron. It is large and produces pressurize steam. Furthermore, steam generators are mostly used for large piles and to remove stubborn creases from clothes. Mostly it is used by professionals, large families (having more clothes to iron, and quilters.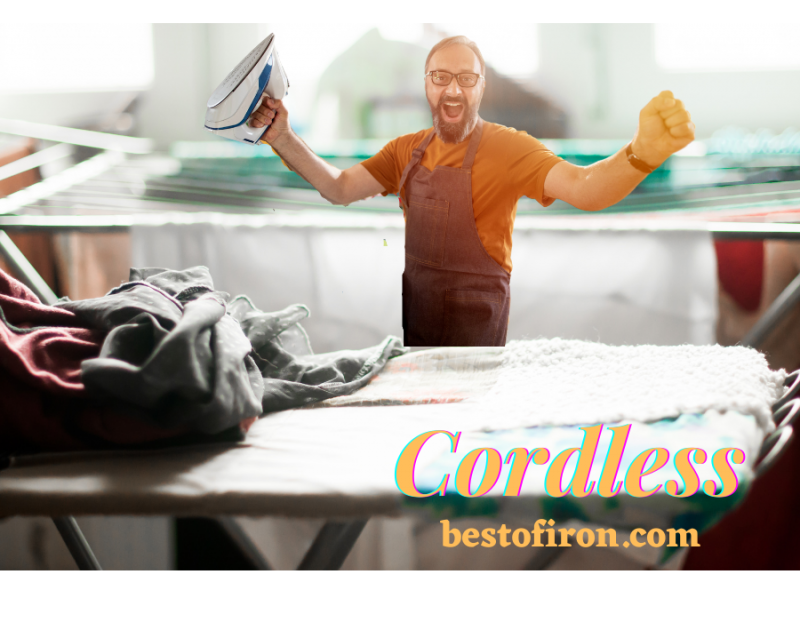 Cordless iron resembles steam generator iron only the difference is that it has a cord attached to the base unit only not with the iron. You have to place the iron on the base unit charge as it gets heats up you can iron clothes. All other features and functions are the same. Cordless iron is light and cord-free, that is no tension or tangling of cord while ironing.
The only drawback we found in cordless is the time limit for which it is hot. You can iron it when it's hot and after that, you again need to place it on the base to charge.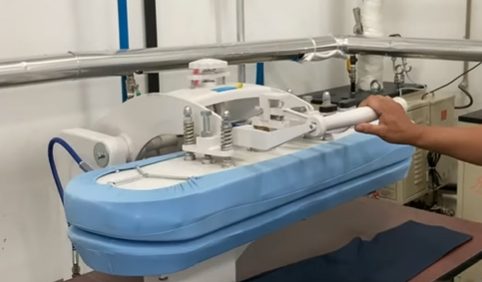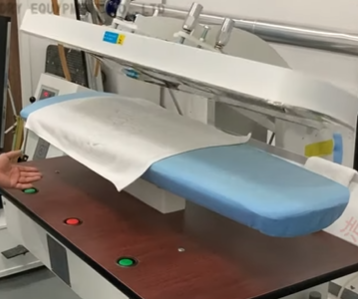 A machine uses to press clothes and bed sheets in sequence, as you can see in the picture. Mostly used for professional work, upholstery, ironing sweatshirts, and coats. It makes iron much easier than ironing with all other options available.
Steam Ironing Station or steam cabinet: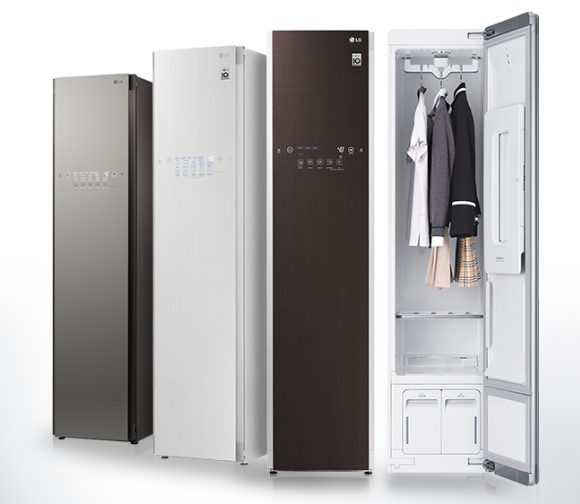 Steam cabinet is larger as compared to all other irons and steamers available. Mostly, used in textile factories and use to iron a large pile of clothes, fabric, and bed sheets in very less time.
Now automatic ironing and folding machines are also available, making our life easier. Further, they are very useful for large families, to make their laundry tasks less exhausting.
Which Iron is best to Choose for Ironing?
All the above different types of irons discussed are performing best, rest depends on your need. Check the features of the iron before selection. We have discussed all the best brands for different types of iron for clothes at https://bestofiron.com.
If you need iron for general daily clothes ironing to use at home then we suggest you buy a steam iron or steamer. If you want pressurized iron for clothes, curtains, and upholstery as well, we will suggest steam generator irons. Steam iron presses and steam ironing stations are a better choice for professional use.
Furthermore, we will suggest you go with the detailed features of every piece of equipment and iron you want to buy. Irons are also divided based on their soleplate types also you can check in detail in our blog post: Stainless steel Soleplate vs. Ceramic Soleplate: which one is better?