For seamless ironing results, it is required that all accessories with steam iron are also tremendous. While we search for good ironing accessories, the most overlooked item is iron board padding. So, knowing its significance we emphasize it and do a detailed analysis on different types of padding, factors that are necessary to keep in mind while buying.
 Further, we suggest the best ironing board covers and pads make the decision of selection easy for you. We prioritize the padding that is smooth, thick, reflects heat, and distributes it evenly.   
Types of Padding Materials Used in Ironing Board Pad:
Foam Padding:
Foam padding is soft and smooth along with the capability of excellent heat distribution and retention. So, it depends on how much padding thickness suits you, as it is available in different widths.
Felt Padding:
Felt padding is one of the most durable with heat-absorbing capability and does not lose its shape at high temperatures. Moreover, it is made from synthetic fiber and has a firm surface for ironing. Felt padding is very good for professional iron experts as it is best suited for heavy-duty ironing.
Polyester Padding:
Most people prefer polyester padding for ironing boards as it is lightweight, easy to set, and remains in its position. Most importantly, Polyester padding is resistant to mold so, the best hygienic choice. Hence we can say polyester padding is helpful for efficient ironing.
Heat-Reflective Padding:
 Heat-reflective padding is designed to enhance the ironing process by using the reflecting heat back to the garment. So, it saves your energy, and ironing tasks can be accomplished in less time easily.
Best Ironing Board Covers and Pads: (Reviews)
1. Whitmor Ironing Board Covers and Pads:
 An Affordable and High-Quality Ironing Cover and Pad
The Whitmor Ironing Board Cover will provide a touch of refinement to your ironing routine with its lovely design. Its appealing design gives your ironing board a touch of class, making it a pleasant addition to your house.
Moreover, if you're looking for a high-quality ironing board cover that won't break the budget The Whitmor Ironing Board Cover is the best option. As, this exceptional cover performs the same as the expensive ones at a far lower price, without compromising the quality.
Furthermore, the Whitmor cover is made of premium 100% cotton, with extra thickness, guaranteeing longevity and a pleasurable ironing experience. Your clothes are further shielded from heat damage by its scorch-resistant coat so, it has scorch-resistant qualities, providing you peace of mind while ironing delicate materials.
The Whitmor cover has a one-size-fits-all design and works with the most common ironing boards. This 2-in-1 cover and pad combo offers a tight and secure fit and is quick and simple to set up. Hence, the cover will remain firmly in place thanks to the innovative universal fit system design. No modifications are needed.
Additionally, it has a substantial 5-year guarantee that gives you additional security. Check the price of different Whitmore ironing board covers and pads.
Pros
Extra thick, sewed-in foam and fiber pad with cotton cover
Application of SCORCH-COAT guards
Universal Fit System (UFS) design as all sizes fit pad and cover in one
A barrel lock on the drawstring rope for a reliable fit
Cons
Some users find difficulty in fitting that size does not fit their ironing board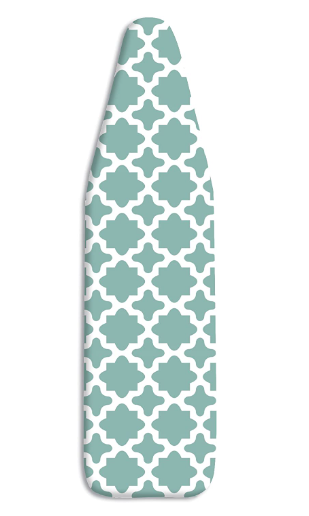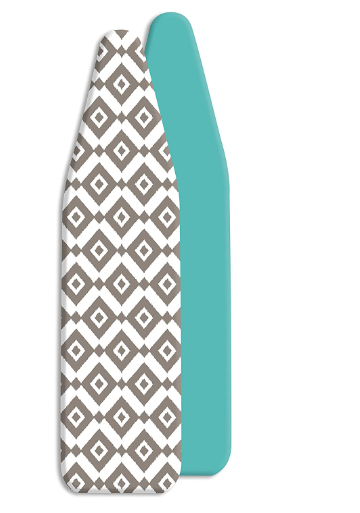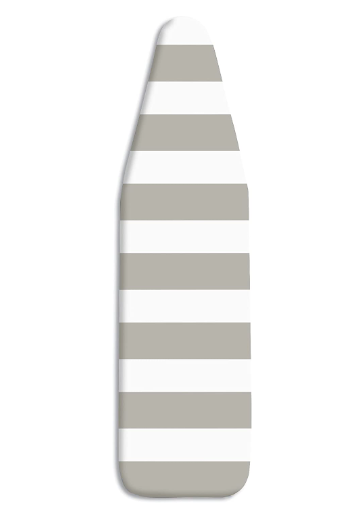 2. Original Gorilla Grip Ironing Board Cover and Pad
Ironing Board Cover with Drawstring
Are you sick of battling creased clothing and ironing mistakes? The Original Gorilla Grip Ironing Board Cover is an incredible option, this enhances your ironing experience. Further, this ironing board cover is silicone-coated and has full-size scorch-resistant padding and an elastic edge cover.
Moreover, it is strong for long-term use as it offers outstanding heat, burn, water, and stain resistance maintaining its endurance throughout time. It reflects the heat from the iron, enabling you to iron wrinkle-free clothing in a fraction of the time. Additionally, the silicone coating makes irons glide smoothly, resulting in simple and effective ironing with each use. This cover is the best option for all of your ironing needs.
Furthermore, it remains firmly in place. For flawless ironing, a precise fit is crucial. It's 15 by 54-inch size, the cover is made to accommodate most standard-sized ironing boards. The edges are elasticized to give them a fitted appearance similar to a bespoke cover. Further, two additional hook and loop fastener straps provide additional security and keep the cover firmly in place as you iron.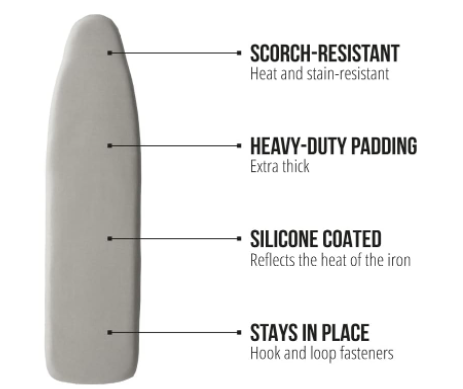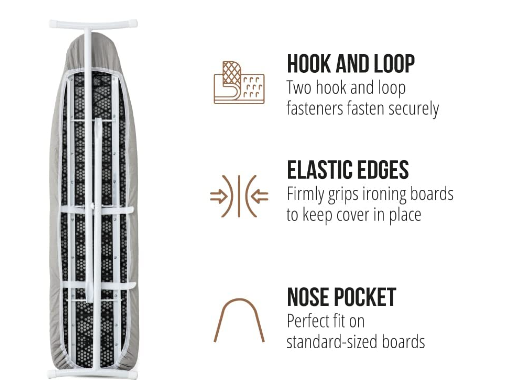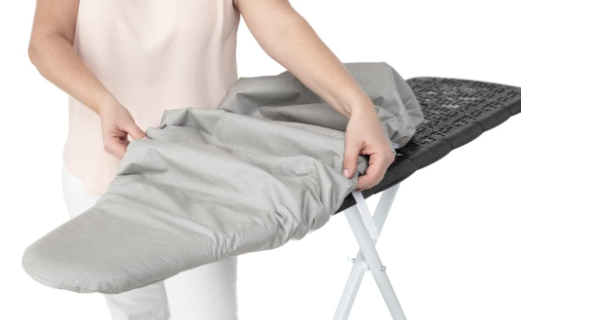 The Gorilla Grip Ironing Board Cover will shield your clothing from mesh imprints and keep it free of damage. As, an effortless and perfect ironing experience is guaranteed by the extra-thick padding, which forms a sturdy barrier between your clothes and the ironing board.
Guaranteed Customer Satisfaction
Don't just take our word for it; the Gorilla Grip Ironing Board Cover has delighted many of our clients. "I am very pleased with this purchase," said one happy customer. The fabric is laid evenly, firmly, and correctly. The cover effectively distributes heat to the clothing, and the straps guarantee a snug fit. It has a sense of elegance because of the appealing design and simple lines. The current padding is enough, though a little more would be nice. It works well, is competitively priced, quick to arrive, easy to install, and fits precisely.
3. Ezy Iron Ironing Board Cover and Pad
Revolutionize Your Ironing Experience
Ezy Iron has produced ironing board coverings for about more than 20 years. The Ezy Iron Ironing Board Cover and Pad will completely change your experience of ironing. As ironing is a time-consuming task but your ironing time will be cut in half by Ezy's inventive product's cutting-edge heat reflection technology. As, this cover reflects heat rather than absorbing it, allowing you to concurrently iron both sides of your clothing for quicker ironing.
Remove those uncomfortable covers that leave mesh stains on your clothing. The ezy cover boasts an incredible 500gsm extra-thick cushioning for a precise fit, ensuring longevity and high quality. Moreover, Ezy is made tailored to Fit All Full-Size Large Boards and Standard Size Boards.
We believe functionality shouldn't ever come at the expense of elegance. But Ezy Iron Ironing Board Cover is available in unique contemporary fabric styles. That will satisfy your demands whether you're a quilter, a sewing fanatic, or a working parent who has to deal with daily ironing.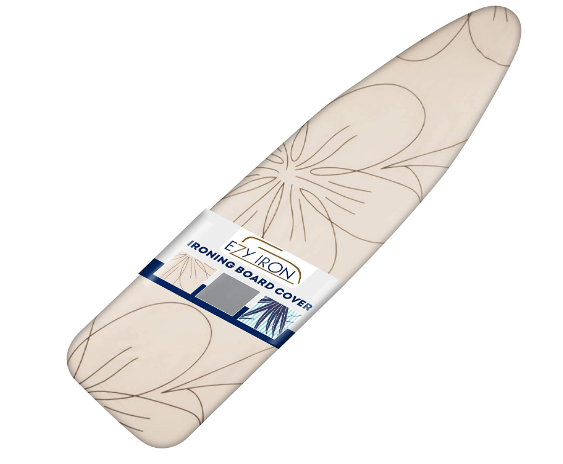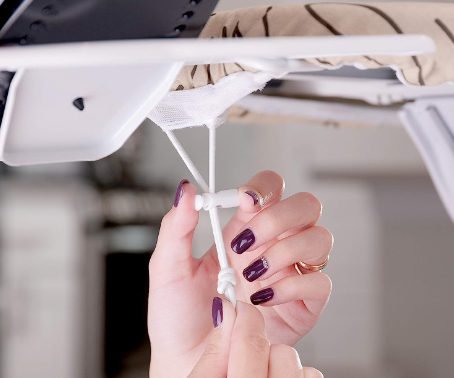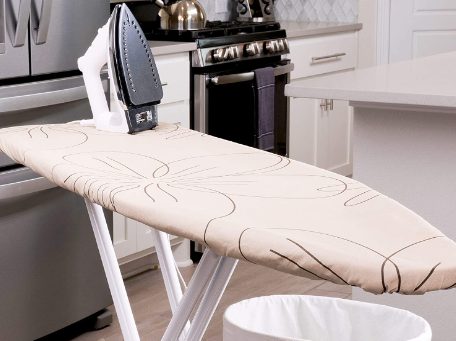 Furthermore, we know nothing is more annoying than an ironing board cover that moves or slides. For this reason, the EZY IRON Deluxe Ironing Board Cover is made with cutting-edge elasticized edges and a drawstring in the bungee cord style.
The quality and robustness of our Ezy Iron ironing board cover and pad are guaranteed, providing a 5-year warranty. In conclusion, for anyone looking for a better ironing experience, the Ezy Iron Ironing Board Cover and Pad is a game-changer.
Important Factors to Consider When Choosing the Iron Board Padding
The necessary factors to consider are put down while selecting the padding for your ironing board. Good research is necessary for getting the best.
Thickness:
The padding should be thick enough that the mesh does not leave an imprint on your garment. The ideal density considers for the ironing board cover is 4-8mm. A good thickness helps to bounce good results for ironing.
Heat reflection:
Good ironing requires a great heating effect and heat dissipation. A padding that reflects heat allows faster and better ironing results.
Durability:
The padding you choose should check the reviews and specifications that it should be durable. As spend money where the product is worth it, ensure the longevity of your ironing board cover and pad. Most importantly, an ironing pad should sustain the pressure of iron on constant or more usage.
High-quality ironing board cover and pad enhance your experience of ironing.
Ease of Installation:
Select the pad that easily installs and gets fixed to your ironing board. As some pads come along with adhesive straps that help to fix the ironing board pad with cover. Moreover, padding should align with the Ironing board cover sizes properly helps to make your ironing easy and efficient.  
Compatibility with Ironing Board Covers:
Must ensure that the size of the Padding and cover is compatible with the ironing board size. So, it gets fixed properly. Otherwise, loose size creates difficulty in ironing. If you set your padding on board yourself by taking the loose piece follow the guide below.
How to Install Ironing Board Padding and Cover: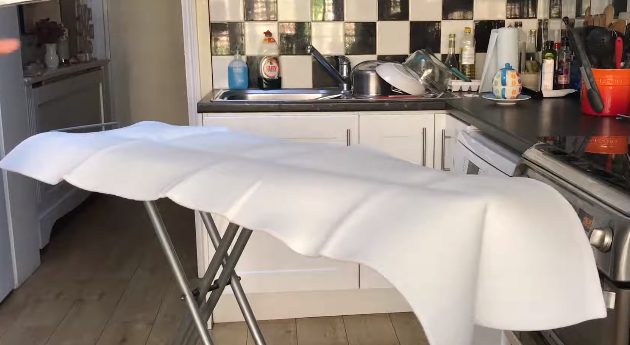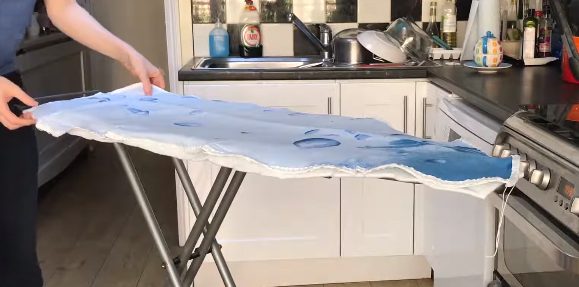 Appropriate installation and proper size of padding enhance optimal performance. So, we put down some important steps you should follow when you are installing padding on your ironing board.
The first and foremost step you should take is to remove the ironing board cover and clean the surface of the board.
Measure the dimensions of the ironing board base and cut the padding accordingly but 1-2 inches extra so that it covers the whole surface and ensures exact fitting.
Make sure before purchase that some adhesive straps should be provided or some adhesive backing.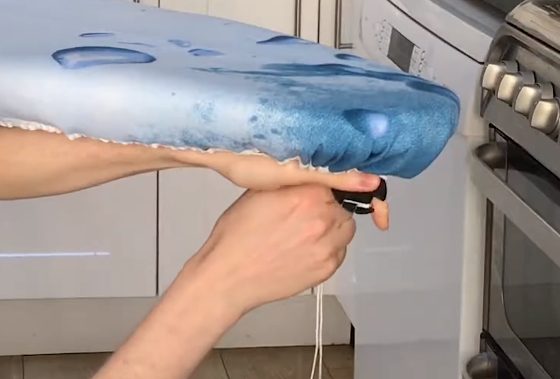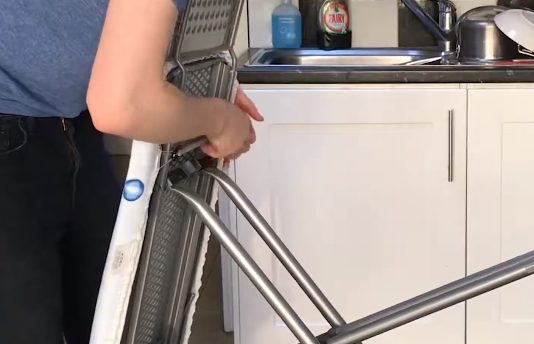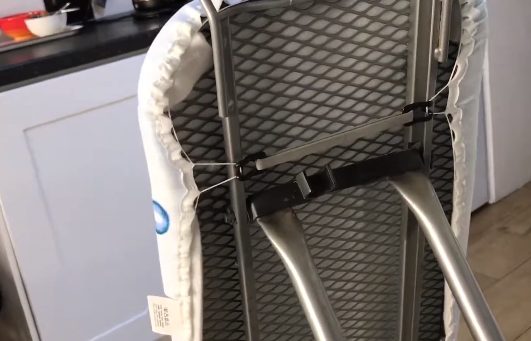 Once the padding is set, now set the ironing board cover on it, tie and fix it properly. After that use adhesive straps for more proper and sturdy fixing. So that the ironing place becomes comfortable and hassle-free.
Frequently Asked Questions:
Can I use any type of padding material for my ironing board cover?
 We advice you to choose padding materials designed for ironing boards to ensure accurate fitting and performance.
Can I wash the padding?
No, not all padding materials are machine washable. It is better to follow the manufacturer's instructions for cleaning and maintenance. Or it is better to hand wash with care.
Are all padding materials suitable for heavy-duty ironing?
Some padding materials are better suited for heavy-duty ironing due to their durability and heat-absorbing properties. A better choice for heavy-duty ironing is felt padding. Now padding with foam and felt layers both are available in the market which is the best choice for your heavy-duty or professional use.
How often should I replace the padding on my ironing board?
It totally depends on the durability of the material and the usage of an ironing board pad. As, if you iron a large pile of clothes or use them at some professional dry cleaning and ironing services station it needs to replace as it wears out or after 1-2 years. Otherwise, you can use it until it becomes worn out or compressed.
Our Final Verdict:
Spending on the best ironing board cover with a pad can considerably enhance your ironing experience. The right padding offers improved heat retention, and durability, and ensures a smooth surface for wrinkle-free results. Consider factors such as thickness, heat reflection, and compatibility with your ironing board cover when choosing the padding. With the right choice and proper installation and maintenance, you can relish efficient and effective ironing for years.