The most overlook product while we think about ironing is ironing board covers. As, most people think a good steam iron, steam generator, or steamer with the best ironing board is enough to get the best results and to make the ironing task stress-free.
However, the importance of the ironing board cover is the same as the ironing board. To get the best results we should choose the best ironing board covers which are smooth, scorch, and stain-resistant, and Highly-durable and dissipates steam so that the board does not get wet after ironing.
Moreover, the board covers come in different designs, materials, and sizes. Choose the right one according to your ironing board. There are many options in the market and you become chaotic in investing in the right option but going through our mentioned buying guide and the best ironing board cover we hope you can select easily. 
Top-Rated Ironing Board Covers (Best Quality)
1. Household Essentials Ultra Ironing Board Cover and Pad
Best Ironing Board Cover for Steam Generator Iron
Household essential accessories are best for organizing laundry. Its ironing board cover gives a sparkle finish, so you can iron without the fear of torching. The ultra-cover pad is made of cotton and is heat-resistant.
Moreover, it has a 6mm pad which is super comfy and enhances ironing board performance. Further, the tailored nose and bungee cord binding increase security and help to tight-fit the cover on board. It has a pocket which is very useful for keeping a hanger or anything. It's eco-friendly and repels dirt and water.
You will feel the worth of every penny you spend on this ironing board cover.
Key Features
| | |
| --- | --- |
| Colors | multi-color options design |
| Material | Cotton |
| Padding | 6mm fiber |
| Sizes | 13″-15″ x 53″-54″ |
2. Dalykate Ironing Board Cover with Thick Padding
Best Quality Ironing Board Cover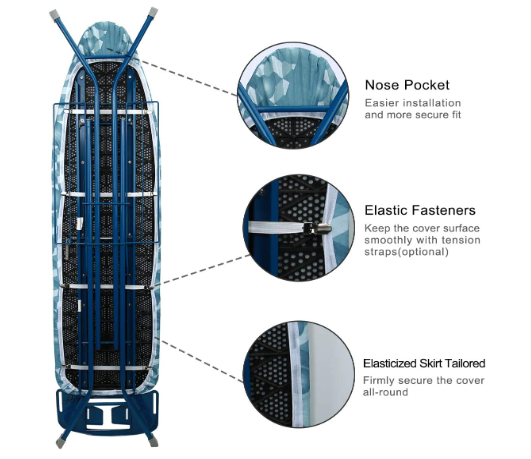 Highly durable and premium quality ironing board cover. Made of 100% cotton which is stain and scorch-resistant. The manufacturer recommended cleaning with a wipe only.
Moreover, it has 6 mm padding and uses synthetic fiber and form which helps to radiate heat and steam evenly which helps to smoother the ironing process. Further, elastic edges help to make a grip on the board which helps to prevent slipping.
Furthermore, it comes with a protective mesh cloth to help avoid shining marks on clothes and fastener belts to fix the cover. Which helps to provide better results and save time.
Key Features
Colors
Different colors and floral prints
are available
Material
Cotton
Padding
6mm fiber
Warranty
2 years
Sizes
4 different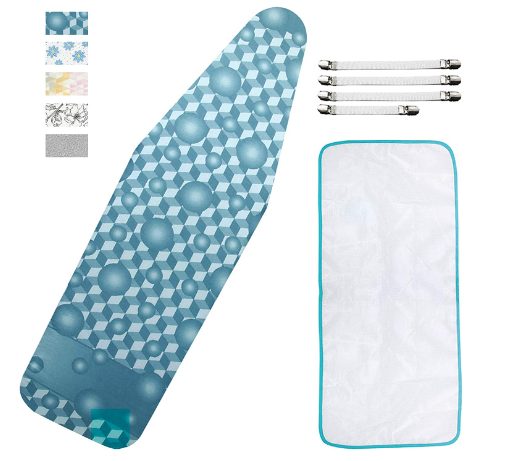 3. Gorilla Grip Ironing Board Cover
Best Silicone Coated Ironing Board Cover
A gorilla ironing board cover is the best choice for steam generator irons. As it is heavy-duty, has thick padding, elastic at the edges, and comes with 2 hooks underside, and fasteners to provide grip on the board.
Moreover, its silicon surface reflects heat which helps to iron glide effortlessly and remove wrinkles in very less time. More interestingly, the Gorilla grip ironing board covers is that it is washable and dryer safe.
Key Features
Colors
Multicolor with modern and
elegant designs
Material
Silicon Coating
Padding
thick
Warranty
2 years
Sizes
15''-54'' inches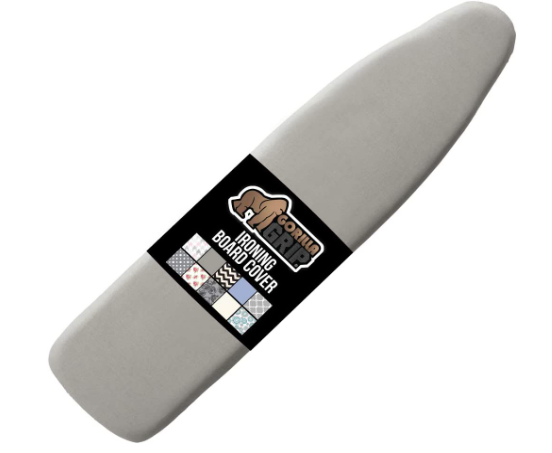 4. Dritz Ironing Board Cover Fasteners
                                    Best Ironing Board Cover Elastic Fastener
Dritz is a well-known brand in manufacturing creative craft products. Same as it produces one very creative idea for keeping the ironing board cover in its place and helps to fix the board. Which helps to smooth the ironing process and better results.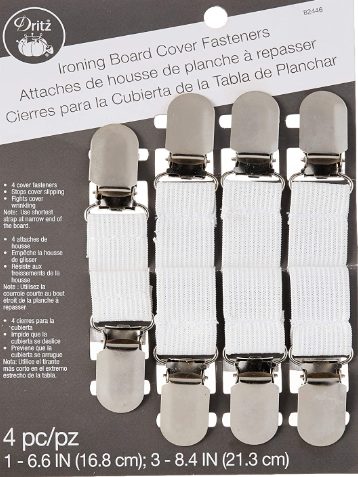 Dirtz fasteners are sturdy and of great quality. Moreover, packing has four fasteners in one packet, in which three of them are of the same size (21.27 cm), and one fastener (16.83 cm) is of a smaller size which is used to fasten at the tip of the ironing board.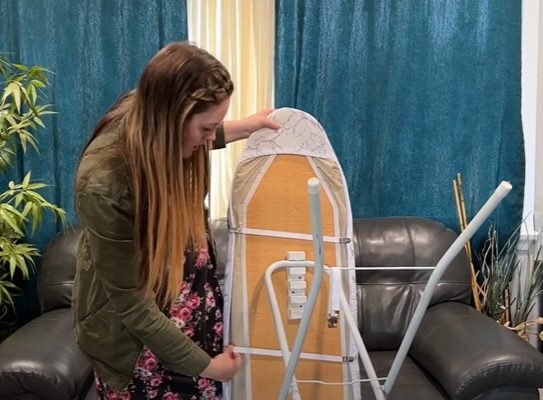 How to use ironing board cover fasteners?
Set the ironing board cover on the board. Position the strap on one side of the cover, place the clasp's teeth on the cover border, and close. Now stretch the strap to the other side of the board and place the cover edge in between the clasp teeth and close. Repeat the procedure until all four fasteners get fixed.
5. Whitmor Deluxe Ironing Board Cover and Pad
                                    Best Ironing Board Covers and Pads
Whitmor has a name in home organizing products. The whitmore ironing board cover is a good choice if you have a standard-size ironing board. You can change the look and freshen your ironing board surface at a very economical price.
Moreover, its material is scorched and stain resistant and can install quickly. It is made of 100% cotton along with a 5mm pad and is made like a fitted sheet that is easily adjustable. Which helps in smooth ironing.
Colors
White + Blue/Gray and
multi-color design
Material
Cotton
Padding
5mm fiber
Warranty
2 years
Sizes
13''-15'' wide and 52'' – 54'' long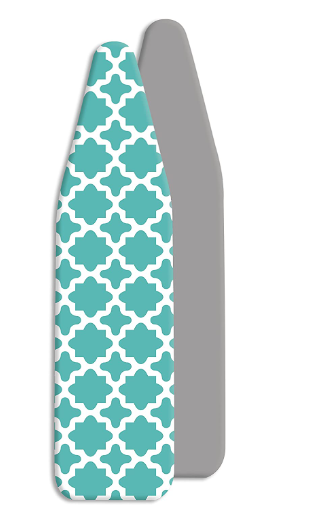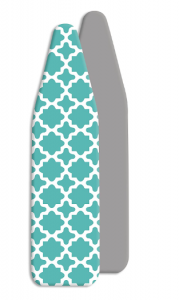 Whitmor Reversable Board Cover
9.7/10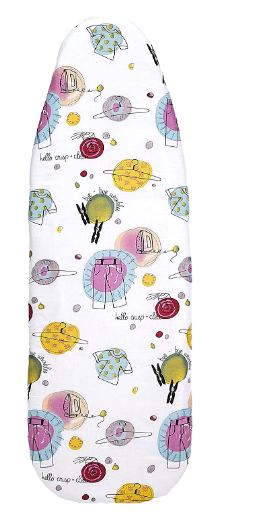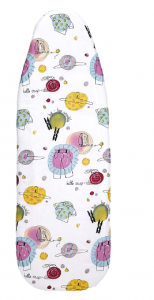 Whitmor Pad-Elements Cover
9.3/10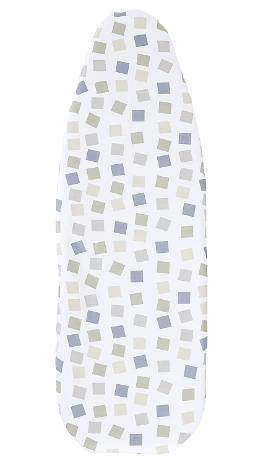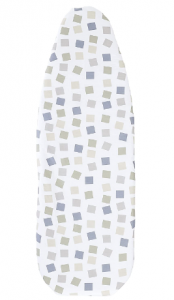 Whitmor Deluxe Cover and Pad
8.5/10
6. Brabantia Ironing Board Cover
Best Rated Ironing Board Covers
The Brabantia cover is a high-quality cotton cover with an 8 mm foam underlay. Available in five different sizes, for narrower to wider ironing boards. You can check the different sizes according to your need. It's versatile in usage, you can use it for dry iron and steam iron both. It's available without a form too, that is only covered if you just want to change the cotton cover only.
Moreover, you can wash it in cold water gentle cycle.
Key Features
Colors
Denim black, Blue, Ecru, Hrpz
Spring Bubbles, Metallised
Material
Cotton
Padding
8mm fiber
Warranty
2 years
Sizes
5 different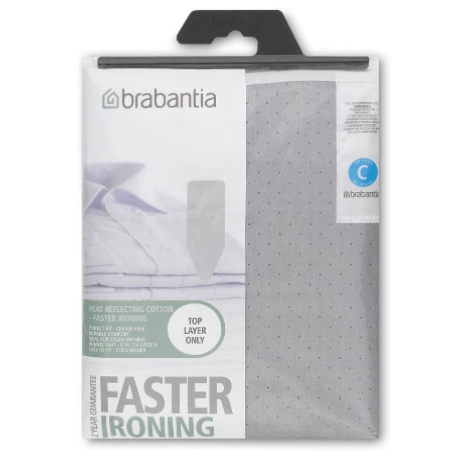 7. Minky Homecare Smart Fit Ironing Board Cover
Best Quality Ironing Board Covers
If you are looking for a highly durable board cover then Minky homecare smartfit will not dissatisfy you. It is made of a mixed material of cotton and polyester and a heat-reflective metallic surface. It is available in two sizes that are from 48''x 15'' to 57''x 21''. Hence it easily fits larger boards also as elasticated fitting.
Moreover, you get 2-in-1, which is covered and pad. Further, it provides comfort and a smoother ironing surface. You can easily clean it with a damp cloth, do not wash it in the machine, and dry it naturally.
Key Features
| | |
| --- | --- |
| Colors | Gray and pink doted |
| Material | Cotton+ Polyester |
| Padding | 3mm fiber |
| Sizes | 2 different |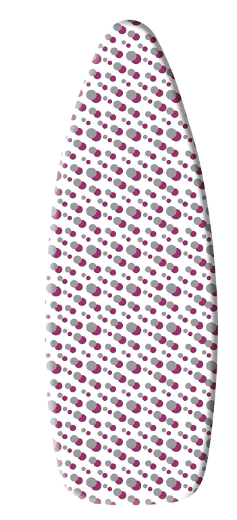 How to Choose the Best Ironing Board Cover
Check the following features in detail before buying the ironing board cover.
Size:
An important feature is necessary to check while making a purchase. As it is necessary to get the best results, the cover fits the board well. Too short will not get on the board, and large size will move while ironing and not provide the required grip which annoys you.
There are different sizes available, you can first check your ironing board size and then order according to that.
Padding: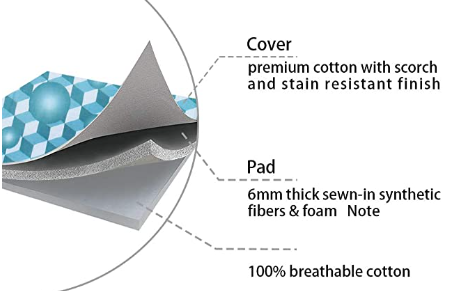 Check the padding, as thick padding is good to get the best results. This helps to smooth the ironing process since your clothes won't rub on the metal under the cover of the board.
Most good ironing board covers have 4 padding layers (Felt, form, breathable cotton, and synthetic fiber).
Material:
Most ironing board covers are made of 100% cotton, which is quite good. Some covers have metallic or silicon coating which helps to reflect heat and even distribution of steam. Hence, decreases the time of ironing and increases efficiency. Further helps to prevent scorching.
Budget and Warranty:
Check the budget in which you want to take the cover. Make an indecisive choice, in which you get the 2 years warranty which is quite a good period and in less budget.
We above discuss all the best ironing board covers on a very economical budget. Further, in some covers, we get extra accessories like fasteners and protective mesh on the same budget.
Frequently Asked Questions: