For seamless ironing results, it is required that all accessories with steam iron are also tremendous. While we search for good ironing accessories, the most overlooked item is iron board padding. So, knowing its significance we emphasize it and do a detailed analysis on different types of padding, factors that are necessary to keep in mind while buying.
 Further, we suggest the best ironing board paddings to make the decision of selection easy for you. We prioritize the padding that is smooth, thick, reflects heat, and distributes it evenly.   
Types of Padding Materials Used in Ironing Board Pad:
Foam Padding:
Foam padding is soft and smooth along with the capability of excellent heat distribution and retention. So, it depends on how much padding thickness suits you, as it is available in different widths.
Felt Padding:
Felt padding is one of the most durable with heat-absorbing capability and does not lose its shape at high temperatures. It is made from synthetic fiber and has a firm surface for ironing. Felt padding is very good for professional iron experts as it is best suited for heavy-duty ironing.
Polyester Padding:
Most people prefer polyester padding for ironing boards as it is lightweight, easy to set, and remains in its position. Most importantly, Polyester padding is resistant to mold so, the best hygienic choice. Hence we can say polyester padding is helpful for efficient ironing.
Heat-Reflective Padding:
Heat-reflective padding is designed to enhance the ironing process by using the reflecting heat back to the garment. So, it saves your energy, and ironing tasks can be accomplished in less time easily.
Important Factors to Consider When Choosing the Iron Board Padding
The necessary factors to consider are put down while selecting the padding for your ironing board. Good research is necessary for getting the best.
Thickness:
The padding should be thick enough that the mesh does not leave an imprint on your garment. The ideal density considers for the ironing board cover is 4-8mm. A good thickness helps to bounce good results for ironing.
Heat reflection:
Good ironing requires a great heating effect and heat dissipation. A padding that reflects heat allows faster and better ironing results.
Durability:
The padding you choose should check the reviews and specifications that it should be durable. As spend money where the product is worth it, ensure the longevity of your ironing board cover and pad. An ironing pad should sustain the pressure of iron on constant or more usage.
High-quality ironing enhances your experience of ironing.
Ease of Installation:
Select the pad that easily installs and gets fixed to your ironing board. As some pads come along with adhesive straps that help to fix the ironing board pad with cover. Padding should align with the Ironing board cover sizes properly helps to make your ironing easy and efficient.
Compatibility with Ironing Board Covers:
Must ensure that the size of the Padding and cover is compatible with the ironing board size. So, it gets fixed properly. Otherwise, loose size creates difficulty in ironing. If you set your padding on board yourself by taking the loose piece follow the guide below.
How to Install Ironing Board Padding and Cover: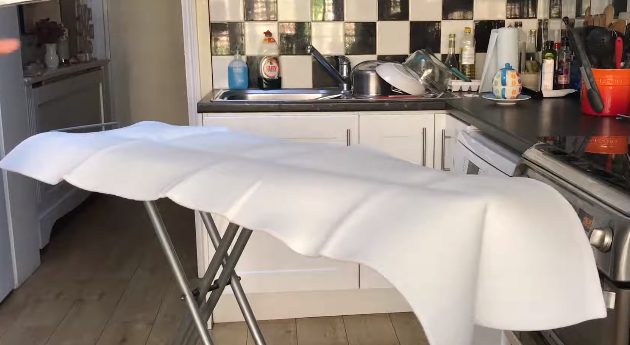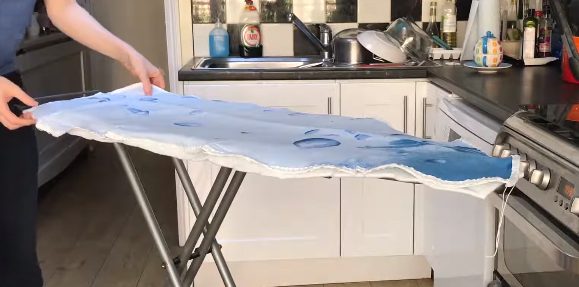 Appropriate installation and proper size of padding enhance optimal performance. So, we put down some important steps you should follow when you are installing padding on your ironing board.
The first and foremost step you should take is to remove the ironing board cover and clean the surface of the board.
Measure the dimensions of the ironing board base and cut the padding accordingly but 1-2 inches extra so that it covers the whole surface and ensures exact fitting.
Make sure before purchase that some adhesive straps should be provided or some adhesive backing.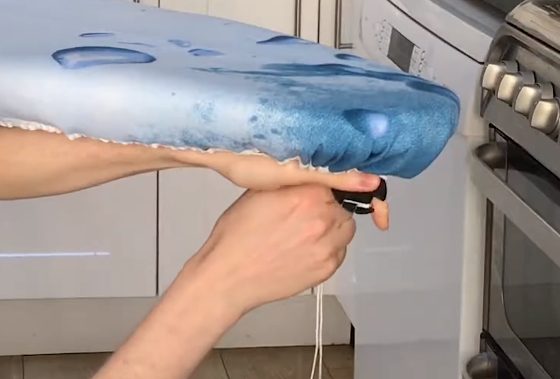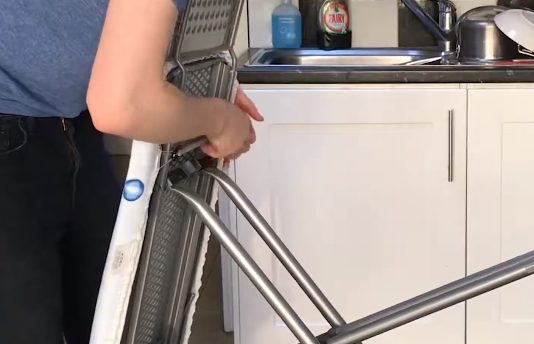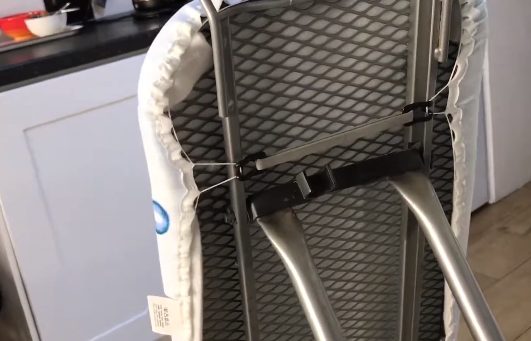 Once the padding is set, now set the ironing board cover on it, tie and fix it properly. After that use adhesive straps for more proper and sturdy fixing. So that the ironing place becomes comfortable and hassle-free.
Frequently Asked Questions:
Can I use any type of padding material for my ironing board cover?
It is suggested to choose padding materials designed for ironing boards to ensure accurate fitting and performance.
Can I wash the padding?
No, not all padding materials are machine washable. It is better to follow the manufacturer's instructions for cleaning and maintenance. Or it is preferred to hand wash with care.
Are all padding materials suitable for heavy-duty ironing?
No, some padding materials are better suited for heavy-duty ironing due to their durability and heat-absorbing properties. A better choice for heavy-duty ironing is felt padding. Now padding with foam and felt layers both are available in the market which is the best choice for your heavy-duty or professional use.
How often should I replace the padding on my ironing board?
It totally depends on the durability of the material and the usage of an ironing board pad. As, if you iron a large pile of clothes or use them at some professional dry cleaning and ironing services station it needs to replace as it wears out or after 1-2 years. Otherwise, you can use it until it becomes worn out or compressed.
Our Final Verdict:
Spending on the best ironing board cover with a pad can considerably enhance your ironing experience. The right padding offers improved heat retention, and durability, and ensures a smooth surface for wrinkle-free results. Consider factors such as thickness, heat reflection, and compatibility with your ironing board cover when choosing the padding. With the right choice and proper installation and maintenance, you can relish efficient and effective ironing for years.